jemanjiman: did you actually bread the chicken?
damonkeyisonfire: nah i had frozen chicken patties in the freezer hahaha
damonkeyisonfire: hence why it was pretty ghetto
damonkeyisonfire: and i didnt really have cheese so i just put a slice of white american cheese on it
damonkeyisonfire: but man it was still good lol
jemanjiman: NICE lol that's amazing
jemanjiman: sounds like you made do
damonkeyisonfire: totally
damonkeyisonfire: i was about to make a blog post about it, it's so exciting
jemanjiman: lol do it!
So if you know anything about me, it's that I love chicken parm. And Xbox360, but that's irrelevant. If you also haven't heard, I can't cook FOR SHIT. Or so I thought; if I've learned anything from going to college, it's that I can, in fact, make a meal... and there are a dozen brilliant ways to use Spam and canned tuna, just not together.
So here I have some frozen chicken patties, a slice of white american cheese, some angel hair pasta from Stop N Shop, and some awesome Classico pasta sauce. For someone who once burned Easy Mac her freshman year of college (it was a rough day, ok), I've come quite a ways. Check out this legit looking chicken parm eh.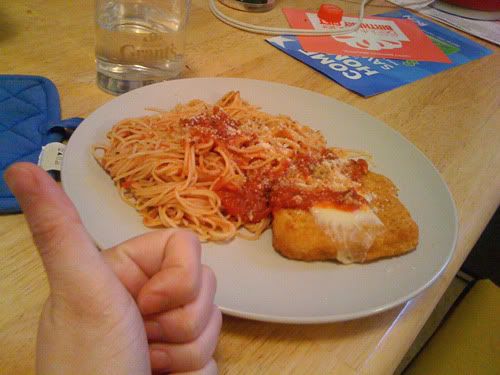 FINAL VERDICT: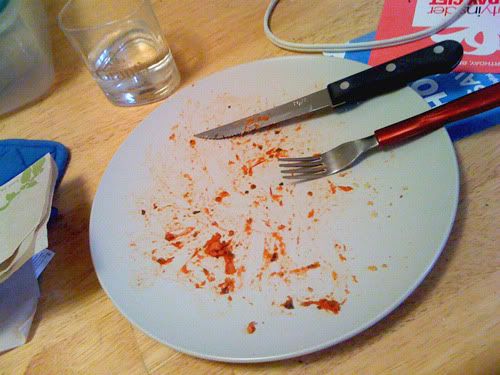 ... Helps that I'm not a picky eater, as in, I like airplane food... No, but seriously, I've built up quite an impressive arsenal of foods I can "make," not that anyone would ever call me up to cook for their next dinner party, but hey, I make awesome fried rice and some bitchin' omelettes. I also grill a pretty mean steak, but that's more of a passion than anything... HAHA.
And what does this have to do with art? ABSOLUTELY NOTHING. We now return to our regularly scheduled programming.